!Skapad av Christer Niklasson med Einstein Html Pro> <!Tid: 10.02 Datum: 2002-01-09>
GRIP-kaross in Västervik
Grip-kaross in Västervik started in 1937 with the making of truck cabins. Earlier there was a company at the same location named AB Spik. The company went broke and the localities and personal were tranfered in to the new company GRIP-kaross. The name GRIP is short for Grantorpet i Västervik where the company was situated. Actually it should be named GRIV but that means nothing in swedish.

When buisness were at the top, GRIP-kaross had about 100 employed. There were carpenters, metalworkers, upholsterer and painters. In time the production came to manufacture cars, mostly vans. There were several different producers of chassis but Volvo was the most used. The first year after the introduction of the PV 445-chassie the company mainly produced vans. Probarly somewhere between 1200 and 1500 were made.

Evald Pedersen, who has worked at GRIP since 1954, tells us:

" The bodywork was drawn by the companies' own designers Karl Möller and Bengt Karlsson. The chassis came by train to Västervik. When they had got their bodywork the were sold through Volvo-dealers, many through Bilbolaget i Västervik. For the differnt governements as Postverket, Telegrafverket and Vattenfall the sales were made directly through the factory. "


An article from the Volvo owners magazine Ratten issue nr. 11 in 1950 wrote about the factory.

" It's the wooden frame that gives the cars from Grantorpet - the Grip bodywork - a silent motion, as silent as a cats' walk. From the assembly workshop the car goes to the metalshop. the painting shop and finally to the complementary where the bodywork gets upholstery. To the assembly line parts from the carpenters, the saddlers and the metalworkers are delivered. The metalworkers shop is higly equipped and has skilled personel. Ten 445:s per week gets its GRIP-bodywork, and the pace will increase. But serial production and increased pace can't get Grantorpet from craftsmanship where it means higher quality. Most of the eighty workers are skilled craftsmen.

As so many others, Grantorpet has problem with space. On the 10 000 square meter big estate - right in the middle of the residential district at Västervik harbour - they got 3 000 square meters of space for production. But the workers get on well and stays, in spite of the fact that the sanitary arrangements are imperfect and in spite of the fact that some blacksmiths have to work with tarpaulins as walls and roof.

Some facts from the production are at interest. From the beginning Grantorpet was a match-factory, then a coachbuilding factory that eventually specialized on cabins and vans. But in the erlier production you could find boats, garden furniture and all types of other frills. Now the motorising is dominated by trailers for SJ, vehicles for Telegrafverket and the militairy among all the civilian vehicles. Our special interest, the 445, got a GRIP-bodywork called PLC-50. PLC means person-load-camping-bodywork with two fixed and two folding seats. "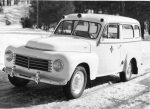 Information about GRIP-kaross is taken from the Dan Jansson article in the swedish Volvo PV-clubs members magazine PV-entusiasten nr. 4 1991 and from Volvo owners magazine Ratten nr. 11 1950.



Published 2000-12-16
---
Home